Four Year Old Horses for Sale
Sonada
16.1 h.h. bay mare

By Hernando (French Thoroughbred) x Sirena (German Thoroughbred)

Born in England, raised in Ireland with a French father and a German mother, Sonada is the epitomy of an international horse!

Although bred for speed and staying power from top thoroughbred lines, Sonada has the topline of a warm blood, correct movement and a effortless jump. She has good natural balance and a lovely trainable attitude.

Her pedigree is rich in names that have produced great thoroughbred jumping lines. Some of the most famous of these are Preciptation, Beau Pere, Ksar, Djebel, Phalaros and Marco.

Sonada's genetic heritage shows. As they would say in Ireland "she didn't just pick it up off the ground!".

She is an exciting prospect for any discipline and a real "tryer".
---
Annabelle Lee
16.2 h.h. bay mare

By Perpendicular (Tb) x Legal Talk VII (Irish Sport Horse)

Both Annabelle's dam and grand dam competed successfully in eventing, with the grand-dam narrowly missing out a first place at Punchestown three-star (due to rider error!).

Annabelle's sire, Perpendicular, is one of the few thoroughbreds in Ireland to be approved under the Elite Thoroughbred Stallion Scheme for use in Sport Horse breeding.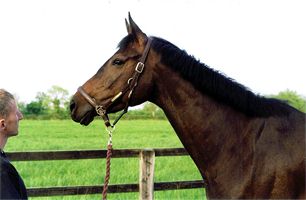 His back-breeding is full fo the names you like to see in a jumping pedigree: Tourbillon, Djebel, Teddy, Phalaros and Bay Ronald amongst others.

Annabelle is a lovely mover and has an impressive jump. Flying changes come easily to her and she has good natural balance. She is a mare of great depth and substance with a bright future ahead!
---